We are developing novel natural molecules for targeted therapies for cancers.
---
BIOMOLECULES FOR LIFE INC.

There has been tremendous progress in improving the efficacy of cancer treatment. However, there is still a long way to go, in order to eventually reach a complete cure. We are making our contribution to push the limit, one molecule at a time.
​
We are developing a new generation of therapy, targeting a key mechanism for cancer cell survival, to increase the efficacy of cancer treatment.
---
our pipeline - five programs
We are carrying out R&D activities from the discovery stage of in-vitro studies to the early-stage clinical testing (Phase I/IIa). Currently, we are working on five programs with our compound candidate BFLO-001.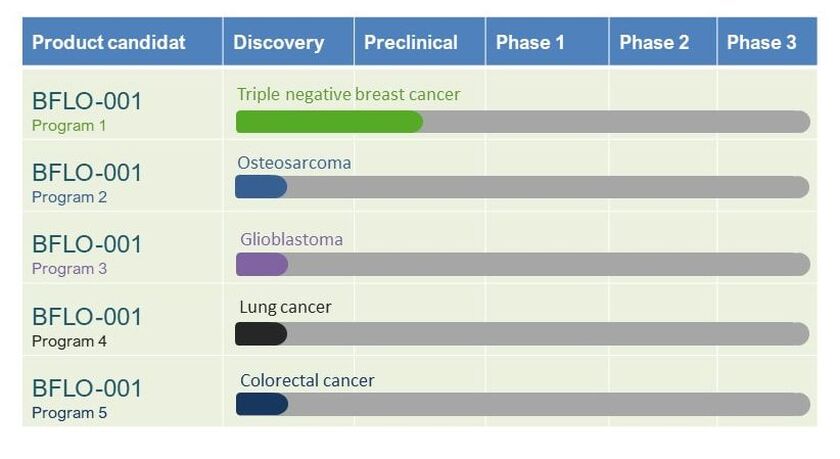 ---
OUR cellular target - NF-KB
NF-kB activation promotes tumor survival
Nuclear factor-kappa B (NF-κB) is a group of proteins involved in the process of converting the DNA code into RNA code, to further make proteins. Belonging to the category of transcriptional factor, the function of NF-κB is to control the presence of specific proteins in the right cell at the right time and in the right amount throughout the life of the cells, within the tissues.

Under normal conditions, activation of NF-κB is on demand, depending on the need of the cell for a specific protein. However, in cancer cells, NF-κB is highly activated, leading to the inhibition of normal process of apoptosis (programmed cell death). As a result, cancer cells gain the ability to escape their fatal destiny. Instead of undergoing suicidal process by apoptosis, they survive, leading to the increase in tumor size.
​
Inhibition of NF-κB pathways removes the ability of cancer cells to escape their normal fate. This unlocks the process of apoptosis, leading to the death of cancer cells.​
NF-kB activation promotes maintenance of cancer stem cells
Cancer stem cells (CSC) are a minor population of tumor cells that possess the stem cell property of self-renewal. It's believed that resistance of cancers to treatment is due the fact that the used therapies do not eradicate properly cancer stems cells. The remaining untreated CSC self-renew quickly. There is now emerging evidence that targeting CSC could be a promising strategy in cancer treatment.

NF-κB is among pathways involved in maintenance and proliferation of cancer stem cells. This pathway activates different protein targets, promoting therefore a high self-renewal, survival and proliferation, and tumorigenesis of cancer stem cells.
​
A drug candidate that exhibits its anti-cancer activity via inhibition of the activation of NF-κB pathway would be showing a much more complete efficacy, with a very promising therapeutic potential, decreasing simultaneously the survival rate of both non-stem and stem cells.​
BFLO-001 inhibits the activation of NF-kB
Our results showed that BFLO-001 inhibits the activation NF-κB. This has led to the increase of apoptosis and therefore a very low survival of cancer cells (only 5% of cells survived). The decrease in NF-κB activation is one of the most promising cellular mechanisms suggested by the scientific community as a specific target to further improve the efficacy of cancer treatment.
​
BFLO-001 would decrease simultaneously the survival rate of the bulk and the stem cells, improving significantly the likelihood to achieve a complete.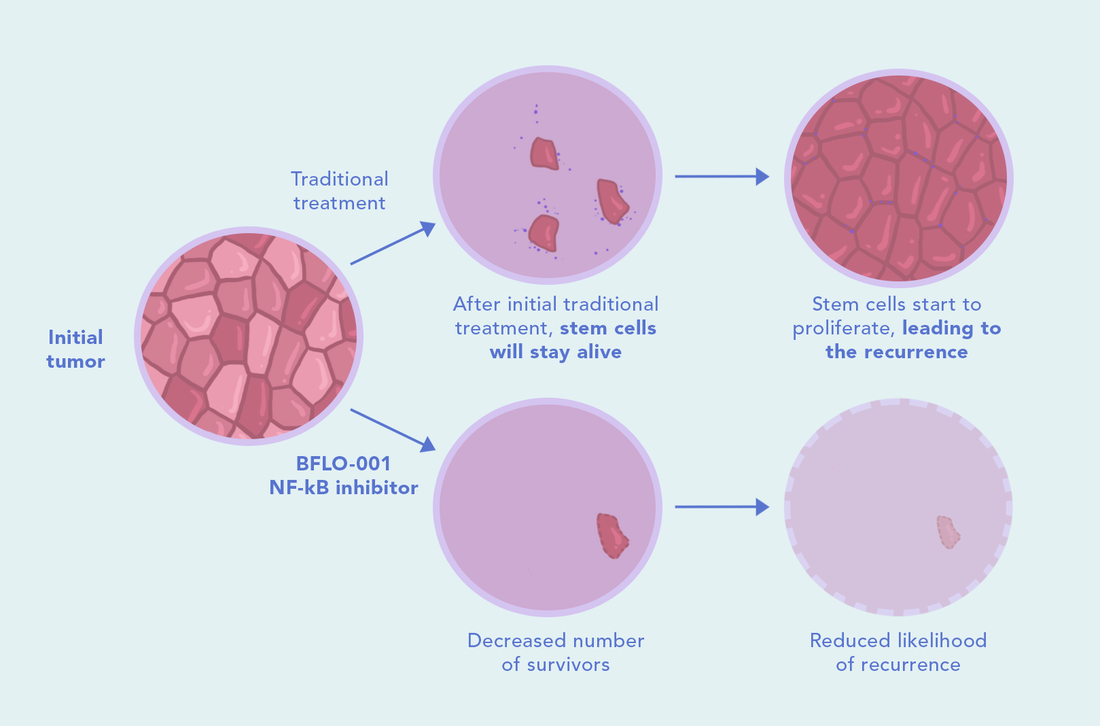 ---
OUR team
Executive team
Jean Mamelona, Ph.D.
Founder and co-shareholder, Director of R&D

He is the founder and co-shareholder of the company. BFL was created following the implementation of its research results, observed during his ten-year career as a bioanalytical chemist in Québec and in New Brunswick. He has a good knowledge of translational research and clinical trials, with an excellent network of medical directors from different pharmaceutical companies. ​
---
Denis Brion, Ph.D.
Co-shareholder, Director of Business Development

He is the co-shareholder of the company. He joined the company in March 2013 when it was time to find leverage to allow the project to move forward. His presence in the company guarantees private/family investment on the part of his father (E. Brion). He oversees Operations and Business development, including the development of relationship with other collaborators, the commercial side of product development, the production chain assembly (manufacturing), the coordination of workflow between stakeholders.
---
Pierre-Alexandre Filion, MBA
Chief Financial Officer

Mr. Filion is a co-shareholder in the company and joined the company in 2019. Having made his career as a CFO for various companies, he has a solid experience of management, acquisition and management in the field of private finance. He is leading the administrative and financial side of the company, to manage the company's liquidity and cash flow, to guide the company in its rounds of fundraising, and to watch the company's finance.
---
Advisors team
Eric Brion, MBA
Consultant and Mentor
Montreal, QC, Canada


Mr. Brion is a top business leader with experience of creativity and rapid growth. For 40 years, he worked in several countries as an executive of the Essilor Group. He was president of an American optics lab for several years, founder of distribution subsidiaries including two exclusive e-commerce companies and participated in 26 acquisitions. He is the mentor and the main advisor for the company in business overall.
---
Cristiano Ferrario, M.D.
Oncologist, Breast Cancer Specialist
Jewish General Hospital
​Montreal, QC, Canada


He is an experienced researcher in the field of clinical research. Author of more than 20 clinical trial articles, he is currently involved in several ongoing clinical trials (Phase I-III), as an investigator. He will act as an advisor, to frame the orientation of the project from the preclinical phases so that the development of the molecule follows the reality of clinical practice and that it responds well to the real need of patients.
---
Development of pipeline of drug candidates
Dung Pham, Ph.D.
Medical Director, Paladin Labs
Montreal,QC,Canada

He is an experienced scientist in pharmaceutical drug development. Mr. Pham has been working for 20 years, mainly as Medical Science Liaison and Medical Director in various pharmaceutical companies, including Pfizer, Amgen, Bayer, Sanofi Genzyme, Alexion Pharma, AKCEA therapeutics and Knight therapeutics. With its experience in practical aspects of the cycle of drug development, he will be the keyperson for the company regarding the overall process of the development of our pipeline and the strategic partnership with the eventual buyers interested in our innovative drug candidates.
---
François-Xavier Lacasse, Ph.D.
Professor, Pharmaceutical Development
University of Montreal
Vice-President of R&D, Hemione Inc.
Montreal,QC,Canada

An expert in drug development, Dr. Lacasse has been working for almost 20 years as a product development director, medical director, chief scientific advisor and consultant at various pharmaceutical companies. He will act as an advisor, in the form of an external consultant service, to oversee the various stages of the project, among others, the choice of doses for preclinical trials, toxicology studies, and regulatory cases to apply for clinical trials.
---
Pharma-economy and Finance
Anne-Jeanne Barzyk, B.T.S., Prosci
BTS Management, Prosci Management
Vice-President of Operations, Hemione Inc.
Montreal,QC,Canada

Mrs. Barzyk is a specialist in planning, management, administration of SMEs in biotechnology and technology valuation. With more than 15 years of experience in the management of SMEs, she has worked, among other things, for structuring, budget management, growth improvement, and guidance for acquisition plan. She will act as an advisor for the project, to supervise the structuring of the company, the whole process of the project, especially for human resources and finance.
---
OUR finance
BFL is executing successfully a lean entrepreneurial strategy to develop its pipeline of drug candidates. Currently, the company is actively seeking to rise $1M in seed-funding capital that will be used mainly to support the phase 1 of the project in order to advance its first drug candidate development program through preclinical studies, structure the company and develop the other programs. BFL is now open for any offer from potential investors.
---
Contact us
Biomolecules for Life inc.
256 Highfield Street, NB, Canada, E1C5R2
Tel: (514)-293-4773 or (506)-229-0872